<!-ShowPage(index.html)->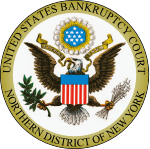 Welcome to the U.S. Bankruptcy Court for the Northern District of New York
<!-ShowPage(OperationNotice.htm)->
NOTICE: PACER access to NYNB's CM/ECF website (this site) will be unavailable from 10:00 PM Saturday, January 21 until 1:00 AM Sunday, January 22 due to scheduled maintenance.
Notice Regarding Filing Claims in the Coyne International Enterprise Corp. 15-31160. All proofs of claim will be processed by Rust Consulting/Omni Bankruptcy. Claims cannot be filed with the Court. For additional information on filing claims in the Coyne International Enterprise Corporation case, please visit the website of Rust Consulting/Omni Bankruptcy at http://www.omnimgt.com/coyne
Digital Audio Recording (CourtSpeak) pilot begins March 16, 2015 in Syracuse division. Please visit our internet site www.nynb.uscourts.gov for additional information regarding CourtSpeak and compliance with privacy rules.
CLICK HERE FOR INFORMATION REGARDING NEW PACER ACCESS
RESTRICTIONS AND OBTAINING PHOTOCOPIES.
This system contains case information dated January 1, 1986 to the present.
Documents filed on or after December 30, 2002 will be in electronic format.
---
ALBANY HELP DESK TELEPHONE NUMBER IS 518-257-1616.
UTICA HELP DESK TELEPHONE NUMBER IS 315-266-1118.
SYRACUSE HELP DESK TELEPHONE NUMBER IS 315-295-1618.
It is the Clerk's responsibility to maintain an accurate index of all documents filed. Please be advised that where a discrepancy exists between the content of a pleading pdf and the data entered during submission, that the court will proceed as if the information contained in the pdf is correct and may adjust its records accordingly. If the information contained in the pdf is not correct, it is the responsibility of the filer to amend the document.
IMPORTANT: All filings with the court including attachments must comply with Fed. R. Bankr. P. 9037: Social Security or taxpayer-identification numbers; dates of birth; names of minor children; and financial account numbers may not appear except as allowed by the rule.
---
27August2015
Court Information