<!-ShowPage(index.html)->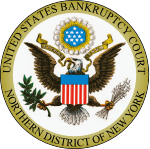 Welcome to the U.S. Bankruptcy Court for the Northern District of New York
<!-ShowPage(OperationNotice.htm)->
THIS OFFICE WILL BE CLOSED ON FRIDAY, JULY 3, 2015, IN OBSERVANCE OF INDEPENDENCE DAY HOLIDAY (JULY 4).
Digital Audio Recording (CourtSpeak) pilot begins March 16, 2015 in Syracuse division. Please visit our internet site www.nynb.uscourts.gov for additional information regarding CourtSpeak and compliance with privacy rules.
NOTICE: THE SYRACUSE DIVISION HAS POSTED REVISED MOTION CALENDAR DATES TO REFLECT THE REMOVAL OF THE APRIL 28, 2015 CHAPTER 12/13 HEARING DATE.
CLICK HERE FOR INFORMATION REGARDING NEW PACER ACCESS
RESTRICTIONS AND OBTAINING PHOTOCOPIES.
This system contains case information dated January 1, 1986 to the present.
Documents filed on or after December 30, 2002 will be in electronic format.
---
ALBANY HELP DESK TELEPHONE NUMBER IS 518-257-1616.
UTICA HELP DESK TELEPHONE NUMBER IS 315-266-1118.
SYRACUSE HELP DESK TELEPHONE NUMBER IS 315-295-1618.
It is the Clerk's responsibility to maintain an accurate index of all documents filed. Please be advised that where a discrepancy exists between the content of a pleading pdf and the data entered during submission, that the court will proceed as if the information contained in the pdf is correct and may adjust its records accordingly. If the information contained in the pdf is not correct, it is the responsibility of the filer to amend the document.
IMPORTANT: All filings with the court including attachments must comply with Fed. R. Bankr. P. 9037: Social Security or taxpayer-identification numbers; dates of birth; names of minor children; and financial account numbers may not appear except as allowed by the rule.
---
7June2012
Court Information